OCHO PRO is a unique brand that produces high-quality, innovative and best-in-class tools for the beauty industry. They offer products such as specialized tweezers, hooves and pliers. OCHO PRO's goal is to create and continuously improve accessories that help with treatments and daily grooming.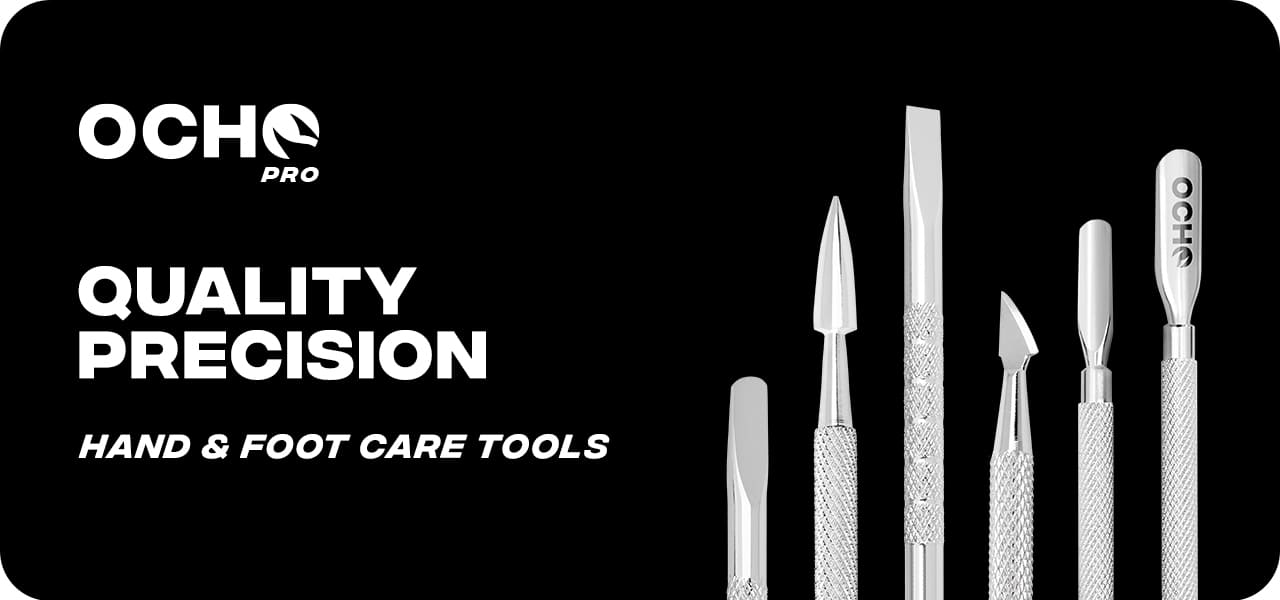 Practical nail tool
The OCHO PRO multifunctional double-sided hoof is a practical tool that will find its place both in the beauty salon and home use. An indispensable accessory used in manicure and pedicure treatments, it allows you to efficiently push back cuticles and membranes from the nail plate.
How to use the cuticle hoofs?
The tool has two functional tips of different shapes, used as needed. • The rounded spatula will work best for pushing back cuticles. The profiled tip is ground in such a way as to effectively remove cuticles while not damaging the nail plate.
• The second tip, a modified arrowhead, has various surfaces that will work well for procedures such as cutting cuticles, cleaning the nail plate after previous stylizations or removing dirt and cuticle from under the nail surface.
Functionality and aesthetics
The grooving on the surface of the handle prevents the tool from slipping in the hand and is visually appealing. The hoof is made of high-quality carbon steel, making it dull-resistant, durable and easy to clean. It is suitable for disinfection at low temperatures.
Width of "spatula": 9 mm
Width of "arrowhead": 11 mm
Total length: 14 cm