The OCHO NAILS is a unique brand focusing on professional products for nail stylists. Its assortment includes hybrid nail polishes, nail gels, specialized lamps and nail care accessories. The OCHO NAILS products will meet the requirements of experienced users, as well as those who are just beginning their adventure with manicure.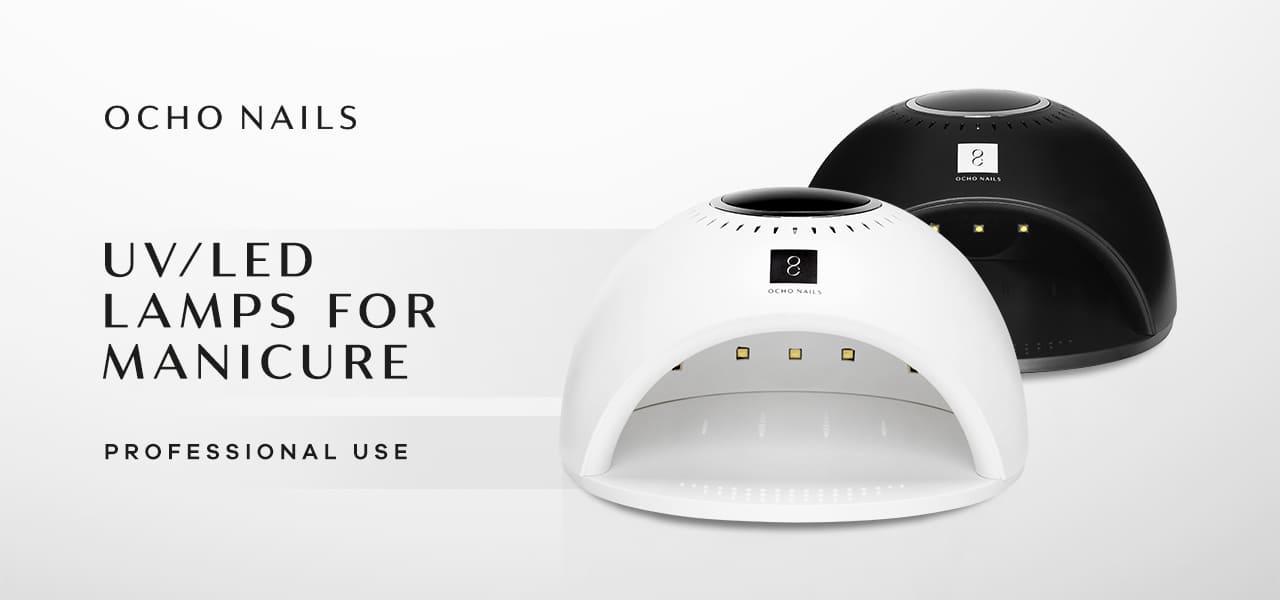 Practical way to beautiful nails
The Ocho Nails 8 nail lamp is a device that – equipped with practical functions – allows you to easily perform manicure and pedicure treatments using hybrid nail polishes, gels or other light-curing preparations. Evenly spaced LEDs and the Dual Led technology used guarantee perfect fixation of nail styling. Minimalist design, ease of use and useful functionalities make the lamp perfect for both professional and home use.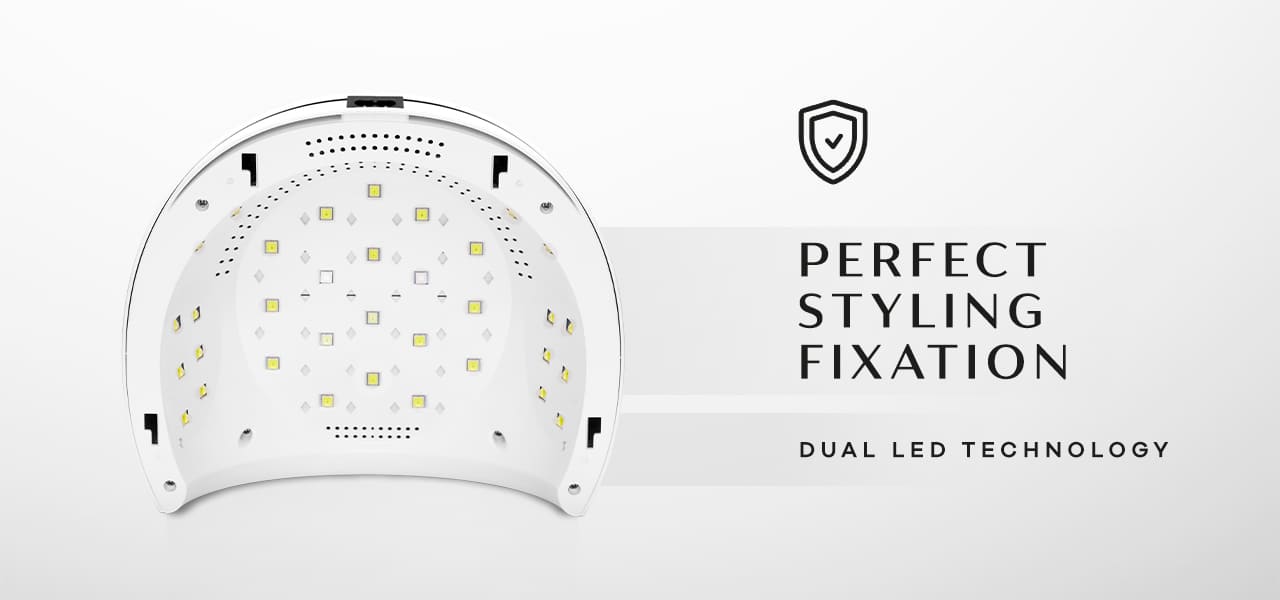 Shadowless lamp with Dual Led technology
Perfect curing of gels and hybrid nail polishes is ensured by 42 appropriately arranged LEDs – without the so-called dead zone. The closed shape, so-called "booth", which was relied on in the design of this model, allows for more accurate and faster curing of nail styling. The Dual Led technology used makes the diodes emit light of two wavelengths, thus not tiring the eyes and providing the device with a wide spectrum of action. The selected solutions facilitate the proper curing of even the most demanding products, allowing you to reach even the more inaccessible areas on the nail plate.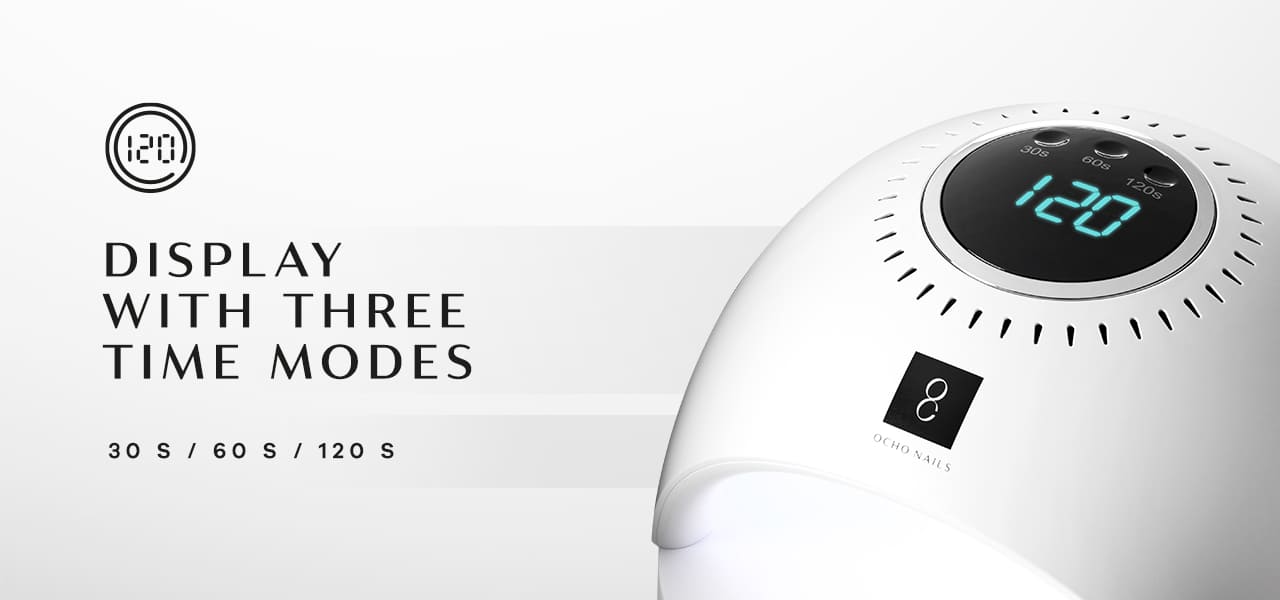 Adjusting working time to individual needs
The lamp is equipped with a timer with three pre-programmed working times: 30 s, 60 s and 120 s (the so-called "Low Heat Mode"), which are counted down on a clear digital display. A built-in motion sensor automatically activates the lamp when the fingers of a hand or foot are placed under it, assuming a maximum exposure time of 120 s. This function works when no mode is selected, and the display shows the elapsed curing time. This allows you to freely choose the length of exposure to suit the styling you are doing at the moment. In addition, when the already mentioned "Low Heat Mode" system is selected, the lamp heats up more slowly during curing the styling, gradually increasing its power. This prevents the sensation of burning or heat during exposure. This is an irreplaceable function, especially when curing gels, which often causes discomfort when using other lamps available on the market.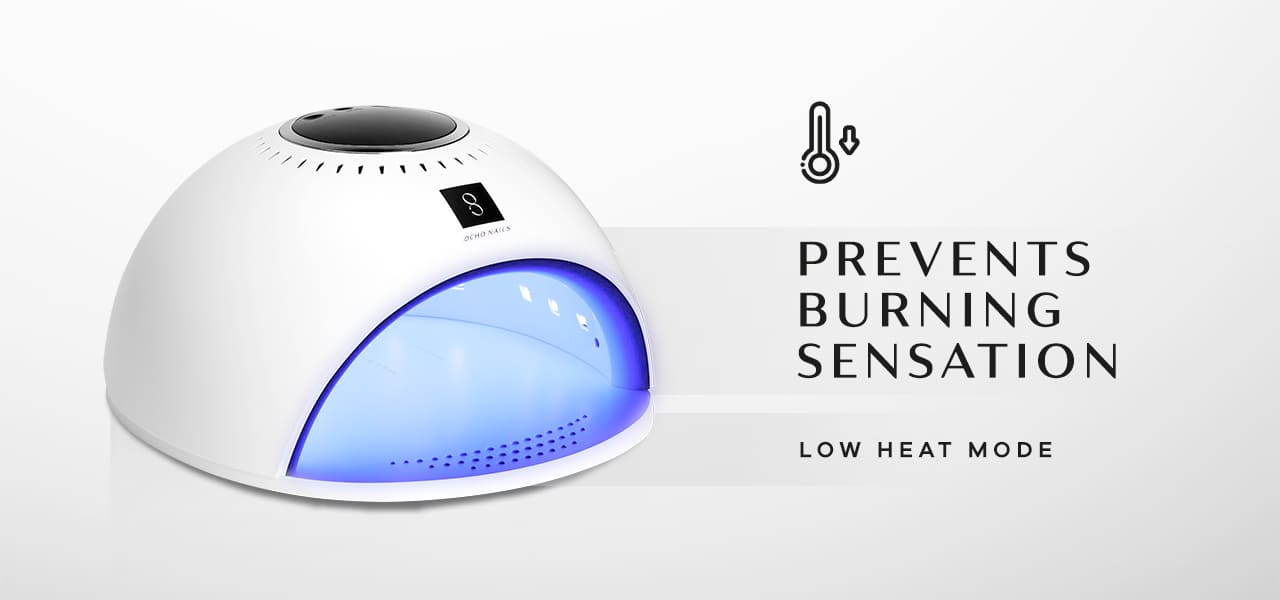 Minimalist look and functionality
The meticulously selected functions, matte finish and classic white shades of the case make the lamp a tasteful, yet extremely practical element of salon equipment. Suitable dimensions allow for free positioning of the entire hand or foot under the lamp during the procedure. This ensures efficient, even curing of styling and reduces the risk of allergies. It has an easily removable bottom, which makes it noticeably easier to place the foot under it for pedicure or podiatry treatments. This option will also work great for cleaning or disinfecting the device.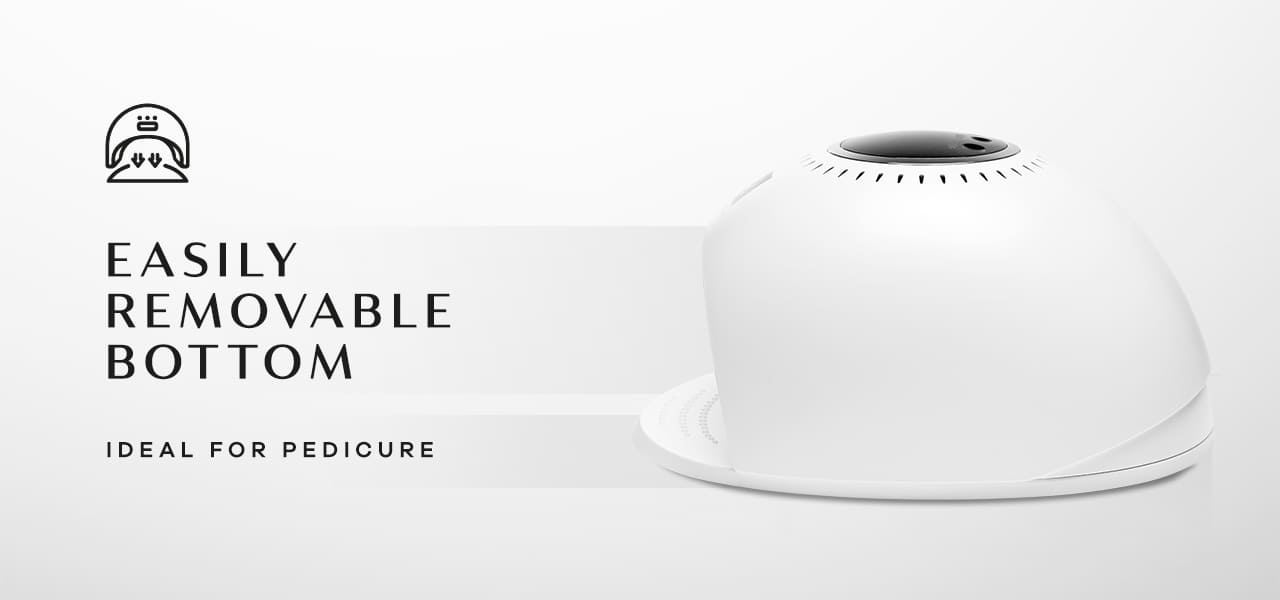 Be sure to read the instructions carefully before use.
Included: lamp, power supply, manual.
Data:
Timer: 30 s, 60 s, 120 s
Maximum treatment time: 120 s
Motion sensor: yes
Input voltage: 100-240 V
Power: 84 W
Number of LEDs: 42
Light wavelength: 365 nm, 405 nm
Lifetime: 50,000 hours
Dimensions: 23,5×21,5×12,5 cm
Case color: shades of white
Warranty: 12 months