Quality that inspires
EXO is a new brand on the market that provides the highest quality products for the cosmetology and podiatry industry. It is characterized by exceptional care for its products and consistent attention to customer needs.

Efficient and safe
An important advantage of this nail drill machine is its 50W power, which allows you to work with the handpiece up to 30,000 revolutions per minute. The suction turbine has as much as 300W of power and allows for effective absorption of all dust and residual material. This makes a treatment as hygienic and safe as possible, both for you and the client.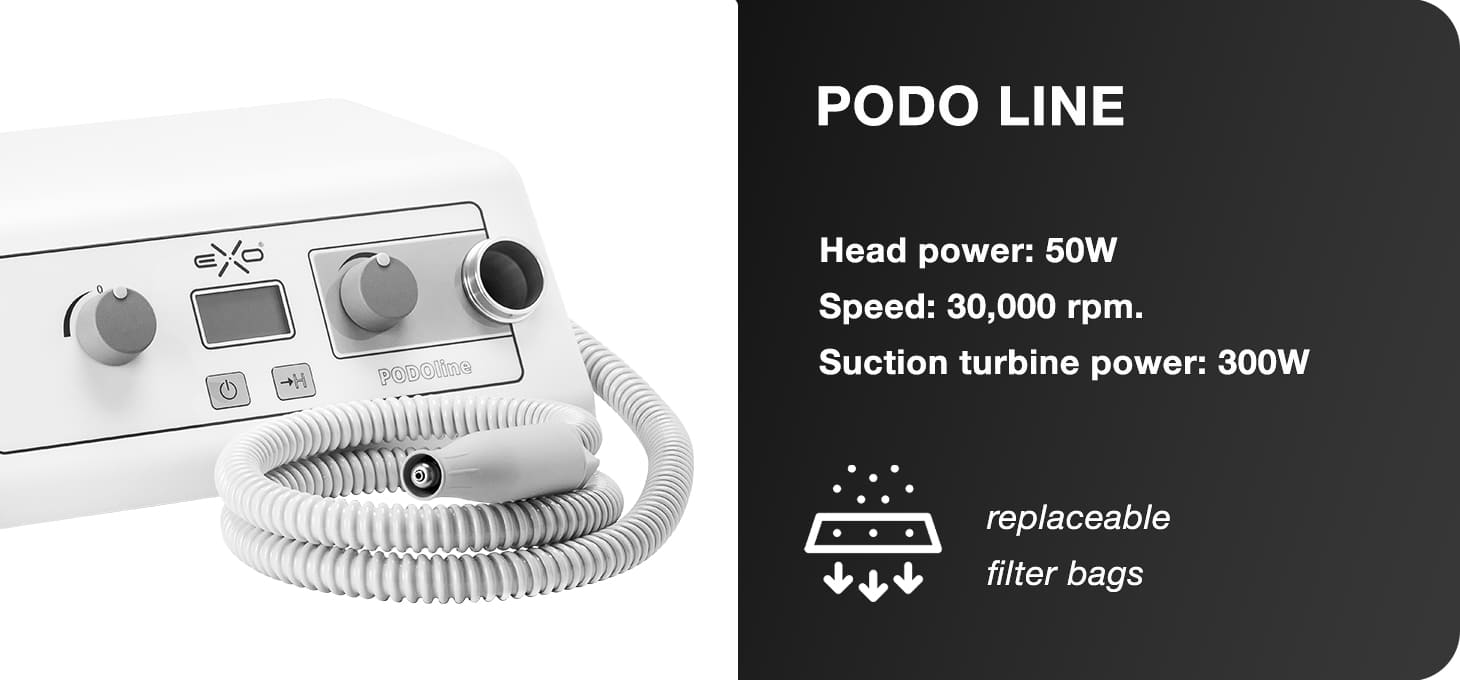 Designed to fulfill its purpose
EXO Podo Line nail drill machine built in accordance with the Directive 93/42/EEC on medical equipment is a device that guarantees quality and safety. Intended for professional pedicure treatments and for the treatment of foot ailments. Recommended for qualified podiatrists or pedicurists.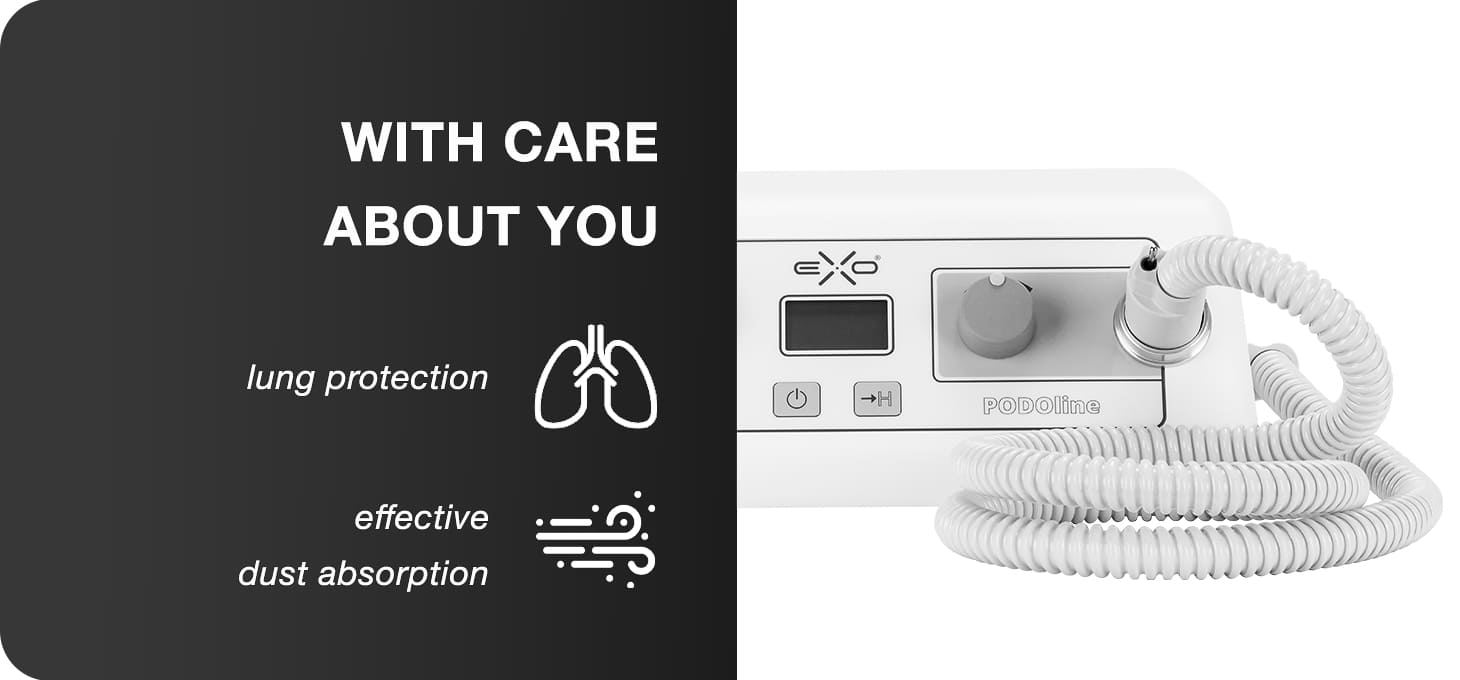 Simplicity of use
The control box of the nail drill machine contains a knob for adjusting the speed of rotation of the handpiece and a knob for setting the intensity of the absorber. You can easily change the direction of rotation and switch the device on/off. Important component is a digital display that without any errors will show the speed of the set revolutions and the degree of filter filling. To ensure the full life of the nail drill machine, replaceable filters (available in our store) should be used.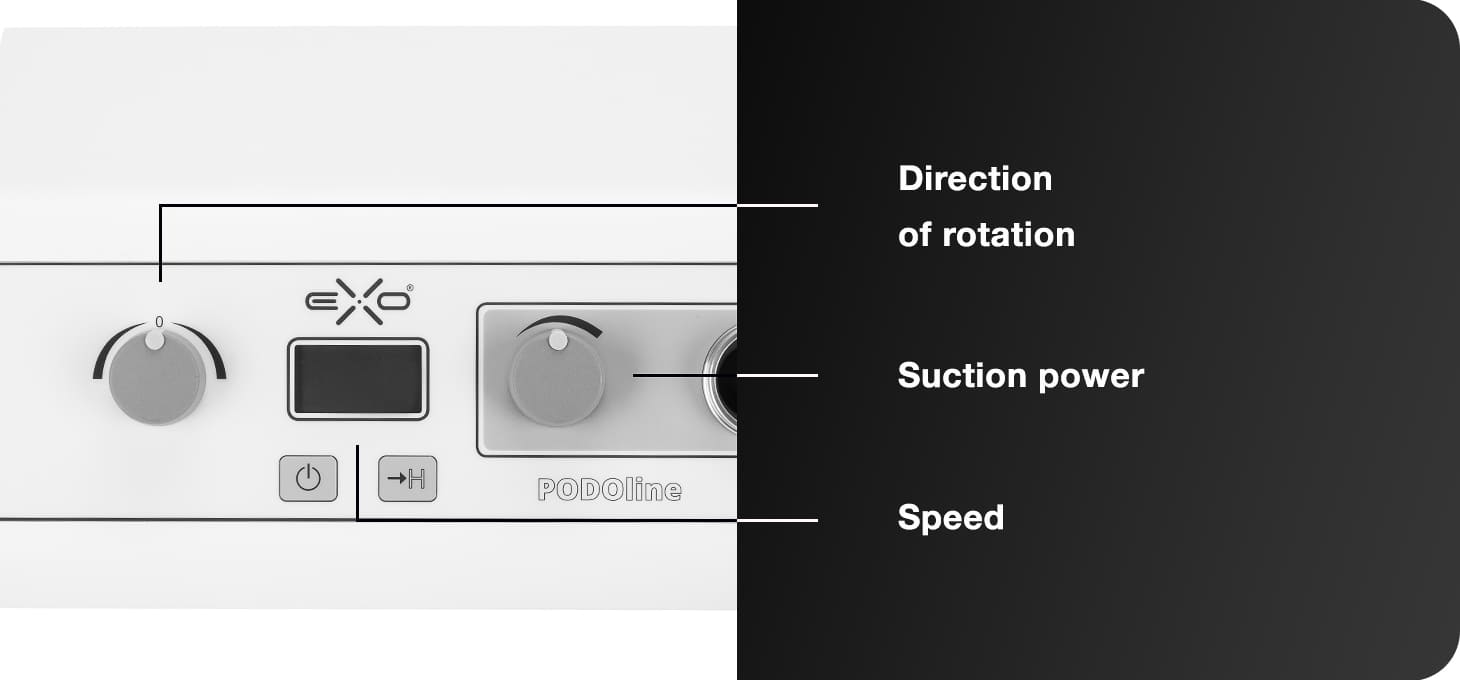 Specification:
The device is perfect for pedicure and treating foot ailments.
Developed in accordance with the Directive 93/42/EEC on medical equipment.
Guarantee of quality and safety.
Brushless handpiece with a micromotor with a speed of up to 30,000 rpm.
Left / right rotation
Effective dust absorber
Filter control system
On the back of the nail drill machine there is a port for connecting the foot drive (not included in the set, available in our store).
12 month guarantee
The set includes: a control box, a handpiece with a micromotor (connected with a hose), handpiece handle, a cleaning drill for the handpiece.
Technical data:
Voltage: 230 V / 50 Hz
Suction turbine: 300 W
Micromotor: 50W / 5.86 Nm / 30,000 rpm
Weight: 4.0 kg (set)
Fuse: T3.15 A
Insulation class: 2, type B
Noise intensity 56.3dB-65.3dB